seawall
Posted by:

Anna Wilkinson

on

July 18, 2012 / 7:44 AM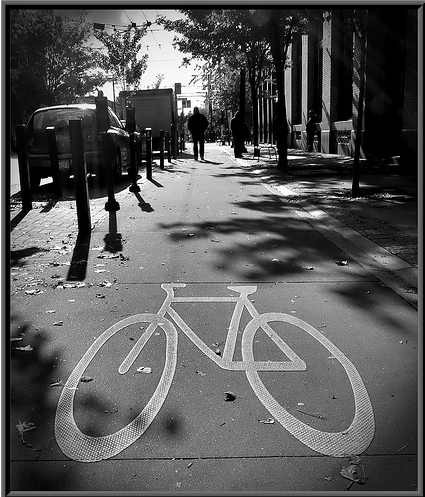 This week's MOVments has us thinking about what it means to make a mark (both literally and figuratively) on the city and beyond. From neighbourhood banners, landmark treaties, and public infrastructure we are exploring the ways that Vancouver is being marked, shaped, and influenced by the people who live here.
Kits Pride. In Kitsilano, residents are marking their streets with signs that proclaim their love for the neighbourhood. The Kitsilano Neighbourhood House started the 'Kits Me-Love the hood you're in!' project to give locals the opportunity to share what makes the area special to them. Each banner features a photograph of the contributor and a quote, with people talking about everything from Kitsilano's walkability to its famous farmers' market.
Treaty Approved. After some hiccups, the Sliammon First Nation has approved a treaty with the federal and provincial governments. The agreement will give the Sunshine Coast group 8,300 hectares of land and $30 million over 10 years. Chief Clint Williams takes a practical view of the milestone event, saying "Now the real hard work starts."
Vancouver: Richest Canadian City (For Now). Nationally, Vancouver has set a record by coming in as the country's richest city for 2011 according to Environics Analytics WealthScapes. But there's speculation about how long this will last given the level of debt financing happening in Vancouver. And there's also the little matter of the declining housing market.
Velo City. As Luke Brocki reports, Vancouver is a long way off from being the benchmark in cycling infrastructure and bike-ability. In this case, it looks like we'll need to take cues from cities like Amsterdam, Berlin, New York, and Portland. Global experts at last month's Velo-city bike planning conference challenged Vancouver to move beyond helmet issues to creating more separated bike lanes and increasing the total number of trips taken by bikes.
Seawall Politics. Controversy continues to swirl around what would be a new line drawn on the city: a proposed continuation of the seawall linking Kitsilano Beach to Jericho Beach. Critics have been quick to point out the cost involved and the problems associated with private funding of public works. As OpenFile reports, Vancouverites have historically been pretty outspoken about what happens with our public spaces, and the seawall is no exception.
At the MOVeum:
August 18 - MEMBERS ONLY Art Deco Chic: Talk & Tour with Ivan Sayers
[Image: Vancouver bike path. Photo by Charles Lamoureux]
Posted by:

Erin Brown John

on

August 16, 2011 / 4:03 PM
Picnurbia is a pop-up installation of picnic benches and artificial turf at Robson Square as part of VIVA Vancouver. Perhaps installations like this can help us re-evaluate the way we think about public space.
Homelessness. The city's new housing plan reveals that five neighbourhoods outside of the Downtown Eastside will be targeted for the construction of homeless shelters and supportive housing.
Renting. The Tyee's Reporting Fellowships are turning out some good stories: this week an in depth series about renovictions and affordable rental housing in Vancouver. Catch them all here.
Humanitarian architecture. Two Vancouver-based architects are recycling the fabric from the Vancouver Trade and Convention Centre's old sail roof into projects for Architecture for Humanity.
Community awards. The City of Surrey has launched the City Awards Program, a variety of awards to recognize people for community spirit, clean energy, urban design and beautification.
Cycling infrastructure. Another update on the Coal Harbour seawall connection: it still sucks for cyclists. A little further down the seawall, installing consistent signage and adequate infrastructure for cyclists at Stanley Park doesn't seem to be a high priority either.
Just who are bike thieves anyway? The Dependent talks to bike thieves and learns about the tools of the trade.
Earthquake preparedness. An engineering report has found that both City Hall and it's data are vulnerable in the event of a major earthquake.
Data mapping. The Vancouver Sun has created a series of interactive maps with data from the 2006 census.
The road not taken. Forty years ago Vancouver and Hamilton shared many similarities. Nicholas Kevlahan takes a detailed look at how they diverged.
Image: Krista Jahnke for Loose Affiliates
Posted by:

Erin Brown John

on

August 08, 2011 / 2:43 PM
The missing link. The seawall is finally connected in Coal Harbour. Gordon Price visited to check it out and found that on the whole, the link is pretty confusing. A second visit revealed that not much had improved on one of our most famous and beloved urban spaces.
Pipe exchange. Keeping in line with it's harm reduction strategy, Vancouver Coastal Health and Insite will be adding pipes to the paraphernalia that they distribute to drug users in the Downtown Eastside. While intended to slow the rate of HIV and Hep-C infection and result in cost savings for the healthcare system, they're expecting it to be a hard sell with the public.
What does life in the DTES look like? Ryan Fletcher lived on the streets for a week for his story in The Tyee and found community, charity and lots of characters.
Canada Line. TransLink announced this week that it will be adding extra trains to the Canada Line, reducing platform wait times. But some question whether the infrastructure is enough to accommodate the ridership of the future.
Pantages. The city's Urban Design Panel has rejected the developer's proposal for the site of the Pantages Theatre as the community and the developer continue to disagree about what amenities and housing are needed for the area.
Little Mountain. Open File visits a public consultation about the new Little Mountain project and talks to the developer about how not to repeat the Olympic Village experience.
False Creek Flats. The city is receiving many proposals for the revitalization of the False Creek Flats, and is looking to maintain a variety of industrial uses in the space. It's come a long way from the cows pasture it was.
Pedestrian deaths. As pedestrian friendly as the city tries to be, far more pedestrians die in car accidents than people in homicides ahead of both Montreal and Toronto.
Wait for Me, Daddy. A commemorative monument is being planned in New Westminster for one of the most iconic Canadian photos from the Second World War.
Urban gardens. Also in New West, a group of residents and their strata council transformed the roof of their building into a community garden, showing yet another model for the creation and ownership of collective gardens.
And now, a video break: crowds gathering and dispersing at the Celebration of Light and bike lanes in action.
Image: Mark & Andrea Busse, via flickr.